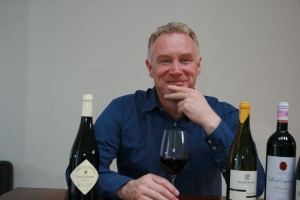 John Wilson left college with a degree in History, and very little idea of what to do next. After a few years travelling the world, he joined the wine business, where he spent the next fifteen years. He has worked buying and selling wine at all levels of the trade in both the U.K. and Ireland. In 2001 he escaped, and embarked on a career in journalism. He is author of '101 Great Wines Under €10' and edited four editions of 'The Wine Guide',Ireland's best-selling wine book.
He has contributed to various magazines, appeared on television, and has worked on local radio. He works as a consultant, and is wine correspondent for The Irish Times. Most of all, he likes a glass of decent wine.
Upcoming Events

Rueda & Ribera del Duero Tasting - The producers of two of Spain's best-known regions have come together to host a tasting event in Smock Alley on November 11th,. Click POSTCARD_SPAIN UNCORKED DUBLIN for details.
Whisky Live 2015 - Whisky Live takes place on the 24th October in the Printworks, Dublin Castle. This event includes tastings, masterclasses, food matching and celebrates the wonderful diversity of whisky (and whiskey) around the world. See http://www.eventbrite.ie/e/whiskey-live-dublin-2015-tickets-17408480233 for details and to book tickets.